Back in late September, I received an early production model of the upcoming 4th gen Apple TV to test while developing my first app for tvOS, "Surround Speaker Check." This is the first of several posts where I share my experiences involved with integrating the Apple TV into our living room for the past half-year, and what you might expect if you too make Apple TV the central entertainment hub for your home.
After six months of heavy use, there's little doubt that one of the more popular features of the 4th-gen Apple TV is the voice-command capabilities made possible with the new Siri Remote. Here's a list of the top three most frequently-used Siri commands in our family's living room.
1. "What did he/she say??"
With our grade-school daughter's bedroom right down the hall, my wife and I rarely have the luxury of cranking up the volume of our home theater system in the later evening hours. This command has made our late night TV or movie-watching experience much more enjoyable by taking the work out of deciphering soft-spoken dialogue.
2. "Skip ahead 2 minutes."
Video podcasts from iTunes have long-ago replaced the cable news shows I used to watch during breakfast. This command is useful for skipping through commercial breaks when I only have limited viewing time available. We sometimes also use this one to skip through slow-rolling credits in the beginning of a movie.
3. "What is today's forecast?"
Back when we had cable TV, one of our most-accessed channels was the "Weather Channel". Sure, iPhone weather apps have long-since negated the need for turning to the TV specifically to check the weather, but if you're already riding the couch, this command gives you an even quicker way to access to the latest weather data (which, coincidentally, is also currently provided to Apple TV by the Weather Channel network). (See last week's post for a comprehensive look at the Apple TV's built-in weather app!)
What's Missing
Overall, our household has had an overwhelmingly positive experience with the new Apple TV. A minor frustration with the voice command feature, however, is the inability to use Siri to perform broader searches for content within 3rd-party apps such as Netflix. For example, if you say "Show me action movies in Netflix", Siri will display a list of iTunes Store movies which are also "available in Netflix", but will not present a way to directly access the Netflix title. Not exactly the streamlined search result I was expecting... I'm hoping a future update will allow Siri to return more app-specific media results when explicitly asked by the user. Fortunately, last month's feature-rich tvOS 9.2 update demonstrates how Apple is rapidly addressing user complaints, adding more features, and working hard to make Apple TV the premier entertainment hub for your living room.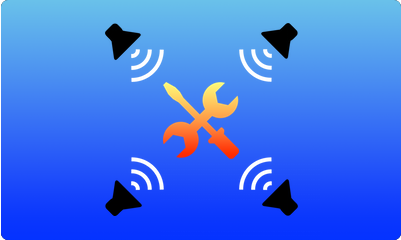 Sponsored by Surround Speaker Check app for tvOS and the new Apple TV. Is your Apple TV ready for surround sound? Search for "Surround Speaker Check" today in the new Apple TV App Store!